ART DIRECTION, DESIGN, ILLUSTRATION WORK:
ヱビスブランドから数量限定販売された「ヱビス ホップテロワール」のパッケージデザインを担当。 「味わいとともに、モノ造りの背景を物語として楽しむ」という、ビールの新たな楽しみ方を提案した企画です。 「ヱビス ホップテロワール」の原料には、ホップ生産で1000年以上の歴史を誇る、ドイツバイエルン産のアロマホップを100%使用。 生産地を身近に感じていただくため、この地域のホップ畑をイメージしたイラストを、パッケージ上に表現しました。
We were in charge of the package design for "YEBISU Hop Terroir," limited-quantity beer sold under the YEBISU brand. This is a project that proposes a new way to enjoy beer: to enjoy the story behind its creation as well as the taste. "YEBISU Hop Terroir" is made from 100% aromatic hops from Bavaria, Germany, a country with a long history of over 1000 years in hop production. In order to make people feel closer to the area where the hops are grown, an illustration of the hop fields in this region is shown on the package.
「ビールを味わう時間に彩りを添える」というコンセプトから、モノ造りの背景となる「物語」を詰め込んだ短編小説『HOP TRAVEL』の制作も
実施。小説は特設サイトや電子書籍で広く公開される一方で、紙の本も同時制作され、そのグラフィックデザインも担当しました。
Based on the concept of "adding color to the time spent tasting beer", we produced a short story, "HOP TRAVEL", which contains the "story" behind the creation of the product. While this short story has widely been published on a special website and as an e-book, a paper book was produced at the same time, for which we were also in charge of the graphic design.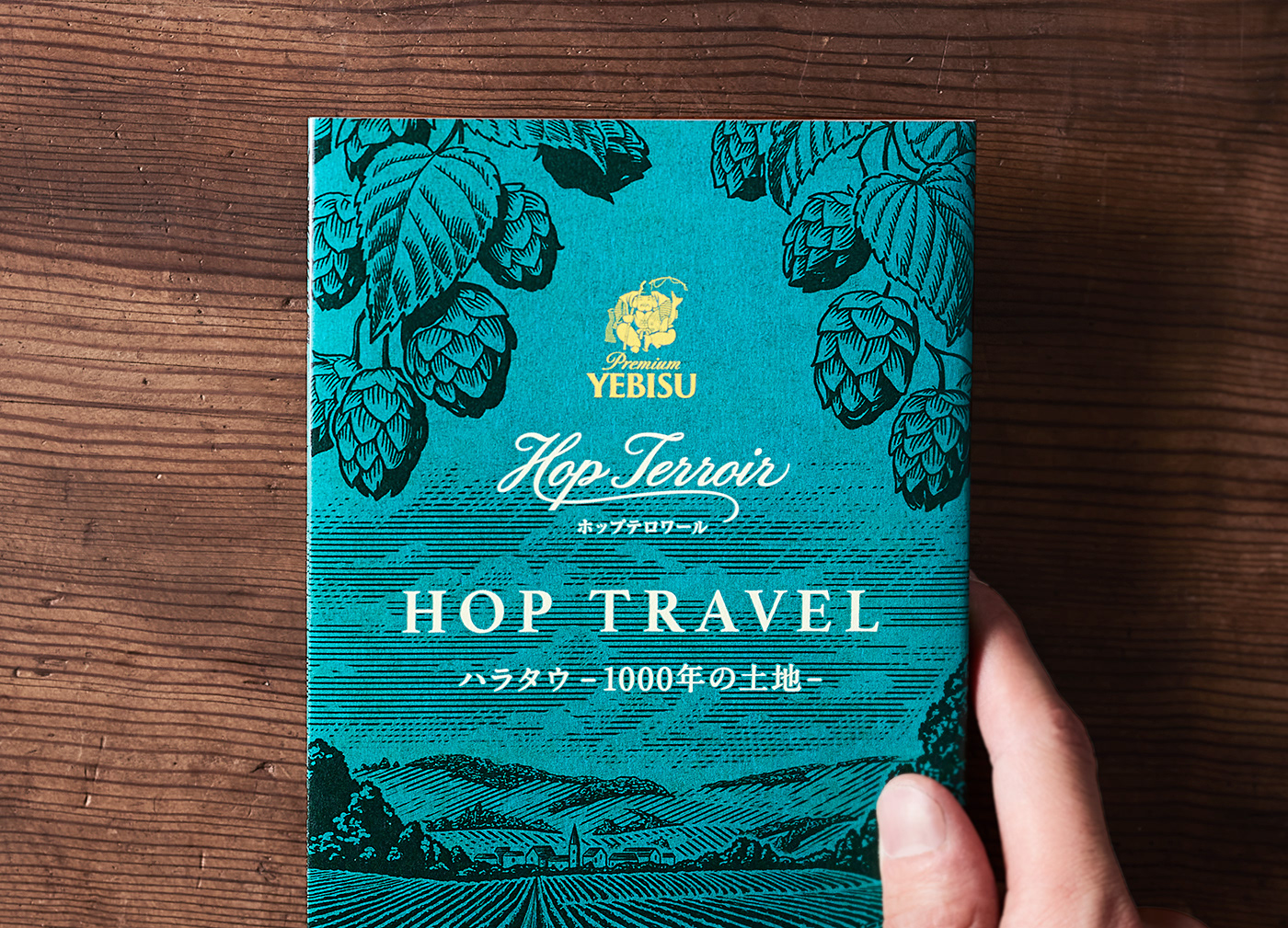 デザインは、「モノ造りの背景となる物語を楽しんで頂く」というメーカーの商品開発における明確なテーマを軸に制作。
1000年以上続くモノ造りが持つ伝統や情緒、そこで生まれる物語などのキーワードが、手にとった人に直感的に伝わるような、メッセージ性の強いデザインを意識しました。
The design is based on the clear theme of the manufacturer's product development, which is "to let people enjoy the story behind the manufacturing process." 
We focused on creating a design with a strong message that would intuitively convey to those who pick up the product the keywords such as the tradition and emotion of manufacturing that has continued for more than 1,000 years as well as the stories behind manufacturing.
CLIENT: SAPPORO BREWERIES LTD. 
ART DIRECTION: JUNICHI HAKOYAMA (RHYTHM INC.)
GRAPHIC DESIGN: YOSUKE EDA (RHYTHM INC.) 
ILLUSTRATION: YOSUKE EDA (RHYTHM INC.)